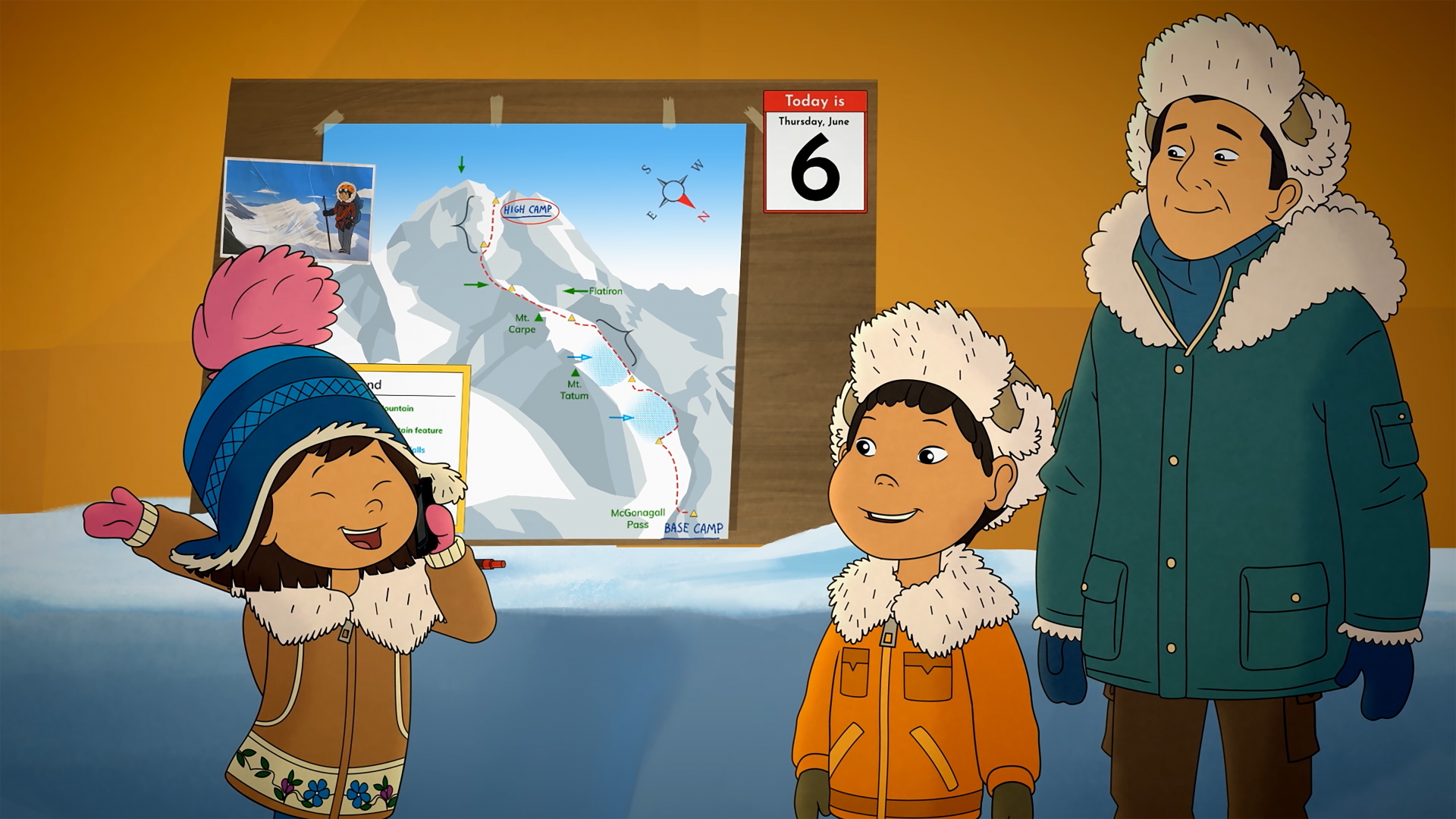 Join us for a special hour-long episode of Molly of Denali on PBS Utah and PBS KIDS 24/7 channel. Molly and the Great One premieres on the anniversary of the 1913 summit of Mount Denali, North America's highest mountain, and commemorates Walter Harper, the Alaska Native mountain climber and guide who was the first person to reach Denali's summit.
Molly learns about her Grandpa Nat's dream to climb to the top of Denali in honor of the first person to do so, real-life Alaska Native, Walter Harper. Inspired, Molly tries to get Grandpa and her wilderness guide father to climb North America's highest mountain. They agree, but tell Molly she's too young to make the treacherous journey to the top.
Never one to give up, Molly enlists Tooey to join her in preparing to make the summit. Meanwhile, Trini is busy preparing for another big event: her mom Joy is on leave from the army and visiting Qyah for the first time. While Trini works on an itinerary for her mother's visit, Molly and Tooey train and ultimately convince their parents to let them make the trek to basecamp and track the climber's journey.
On the eve of the expedition, an unexpected guest shows up – celebrity outdoorsman Mac McFadden, who's also intent on summiting. By foot and dogsled, they make it to basecamp and learn more about Walter Harper's trailblazing expedition. But the trip turns perilous when Mac decides to head out on his own during a storm. Trini's mom, a helicopter pilot, makes a daring rescue, but is it too late for Grandpa to fulfill his dream?
Watch Molly and the Great One on PBS Utah:
Monday June 7 at 6:00 AM
Monday June 7 at 2:00 PM
Wednesday June 9 at 2:00 PM
Friday June 11 at 2:00 PM

This special is also available on PBS KIDS 24/7:
Monday June 7 at 1:00 PM
Tuesday June 8 at 6:00 PM
Tuesday June 8 at 6:00 PM
Wednesday June 9 at 1:00 PM

Additional broadcast times are available. Please see the PBS Utah TV schedule for all scheduled times for Molly and the Great One. It's also available anytime via the PBS Kids Video app.
There is even more good news, PBS KIDS announced Molly of Denali will return for a second season this Fall, with 23 new episodes.

Support your local PBS station in our mission to inspire, enrich, and educate.
Donate