Mars is the most visited extraterrestrial world in our solar system with active missions both in orbit and on the Martian surface. It's impossible to visualize the real-world exploration of Mars without feeling the powerful influence of the countless works of science fiction from popular culture. The producers of NOVA's Looking for Life on Mars capitalize on the confluence of science fact and science fiction to explain the challenges astronauts will face when humans finally do land on the Red Planet.
Both the novel and the documentary powerfully demonstrate the need for cooperation, vision, organization, creativity, and engineering prowess. We will feel accomplishment, wonder and joy as discoveries are made on Mars. Although we have seen deadly accidents from space travel, what we've never before had to consider is an astronaut stranded and alone. Those who read and watch the stories presented in this book club box will discuss the difficult questions about the cost of saving a human life on Mars and what this debate reveals about us. They'll dive into what the Perseverance mission to Mars is worth to us as well as the benefit of pure scientific research. Participants will leave understanding more about themselves and the difference between the cost of taking action and the value of taking action, and whether or not a decision to do nothing incurs costs of its own.
For a state chided as being one of the driest in the nation, Utah has a remarkable history of pouring a drink. KUED's Beehive Spirits portrays a male-dominated history and world of brewing and spirits in Utah even though women were historically very involved in the industry around the world. In J. Ryan Stradal's novel, The Lager Queen of Minnesota, we meet a multi-generational family of women who are torn apart and reunited because of beer. Learn about the rich and surprising stories from Utah's past that led to the state having some of the largest breweries and later some of the most stringent laws and regulations in the country. Discover women who forge a place for themselves in the brewing world while also healing relationships and themselves through hard work and good tasting food and drink.
Who decides how land and history are preserved and protected? How do we keep our connection to the past alive? Bears Ears was established in December 2016 by President Obama using Antiquities Act of 1906 provisions granted to presidents to create national monuments for "protection of cultural and natural resources of historic or scientific interest on Federal lands." A coalition of five Indian tribes that had sought monument protection for years were overjoyed with the decision. But joy was short-lived; less than a year later, President Trump issued a new declaration, segmenting the monument into small, isolated sections consisting of fewer than 200,000 acres, much smaller than the original designation of 1.2 million acres. This action, in turn, caused many San Juan residents to celebrate. Now, Utahns are feeling whip-lash effects as newly elected President Biden has sent his Interior Secretary to southern Utah to review the statues of Bears Ears with the prospects of yet another change. Your book club will dive deeply into a discussion about the ethics of archeologists and pot hunters, about whose voices should be heard, whose history should be saved, and what healing and common ground may be found in this land that is sacred to so many.
This film is available to stream exclusively to PBS Passport members, however a private link will be made available to book club hosts when your box is sent.
Returning Boxes From Last Year
Book | Evicted: Poverty and Profit in the American City by Matthew Desmond
Film | A Home of Their Own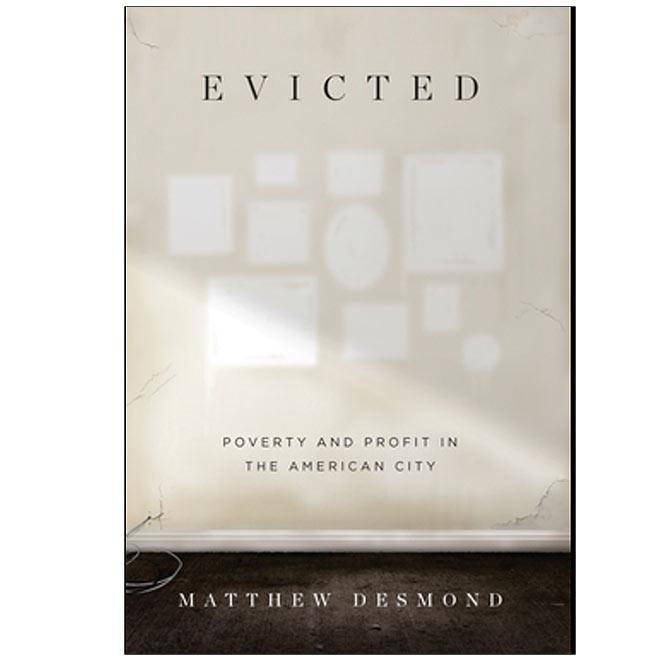 It's clear that housing, healthcare, education, and justice are all interconnected. Access to safe, clean, and affordable housing provides a multitude of benefits: better nutrition, physical safety, less stress, the ability to save money, and the stability to take few days off once in a while. The stories in Evicted and A Home of Their Own will illustrate how most Americans are one check away from financial disaster. Because landlords will not accept partial payment, many low-income renters who are short $100 or $200 are evicted from their homes. Having an eviction on record has long, negative effects, which often result in debt collection, garnishment of wages, and not being able find a place to live.
Housing is no longer simply a shelter – it is an investment in someone's portfolio. Your book group will discover the inequalities that take place in the rental market from high rents controlled exclusively by developers and big apartment complexes to accessing rental assistance and housing close to work. Many renters pay high rent to live in inhabitable places with absentee landlords. Your awareness of these issues will increase your capacity to best help those in crisis, challenge detrimental mentalities, and build inclusive communities.
The current political discourse around immigration is divisive not only in America but worldwide. By casting a light on our present refugee crisis through the lens of the post-Vietnam War, Thi Bui brings forth a story from a place of empathy. Both Bui's story and Finding Home: Utah's Refugee Story movingly puts a human face to new arrivals to our country, illuminating the background of their lives and their struggles. It explores immigration and all the feelings and issues surrounding this situation and the effects it has on people who are displaced. Their stories address relatable universal struggles, including family sacrifices, difficulties in communication in a new country and between parents and children, personal failings, and the importance of identity and belonging. These refugee stories are a reminder that immigrants are human beings. Just like all of us in America, they seek a better future for themselves and their families. They are not a statistic nor are they "the other" but part of our society as a whole. These stories force us to ponder what it means to be a refugee now in America. What hardships does a person suffer that force one to flee home for a better life in the United States and what is it like to assimilate in a new country when some of its citizens don't want you here?