When will your box arrive? Boxes ship out the 1st of each month!
---
Right to Rest Box
Book | Rest is Resistance: A Manifesto, by Tricia Hersey
Digital Series | Let's Talk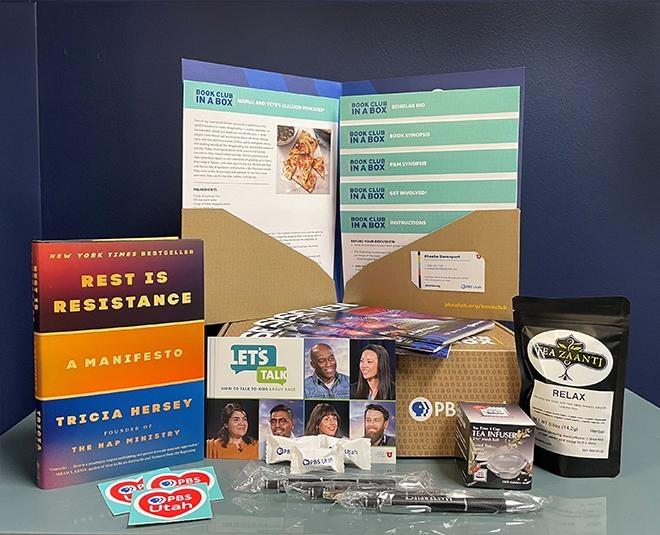 The connection between our day-to-day habits and how we show up for our families, friends, and community is often overlooked. We live in a "grind" culture that tells us we must sacrifice Rest for productivity and financial success. The digital age and rise of technologically mediated forms of communication (aka Twitter, Instagram, Facebook) have tethered us to devices and negatively affected our ability to engage in civil discourse or just sit down for authentic face-to-face conversations with people we love. How do we reclaim our right to Rest and reconnect with what's most important to us?
In this Book Box, we have selected Tricia Hersey's groundbreaking book, Rest as Resistance: A Manifesto and the award-winning PBS Utah Digital Series, Let's Talk, as springboards for rich conversation that will resonate with people of all ages. Hersey's book challenges current definitions of rest, reframing it as a radical act of resistance against burnout, social isolation, and systemic inequities. She provides compelling rationales as well as practical strategies for infusing rest beyond sleep into our daily routines. Let's Talk centers the voices of parents committed to providing a foundation of hope, love, and resilience for their children who are navigating a world where civil discourse on topics like racism and social justice are not always well-represented.
Your book club will create a healing space for rich discussion about what it means to prioritize various forms of rest as pathways to empowerment, deeper human connection, and resilience. For readers raising and educating children, you will explore how modeling self-care in all its creative forms will show young people what it means to slow down, be curious, foster kindness, and cultivate empathy.
---
We All Belong Here Box
Book | We're Different, We're the Sameby Bobbi Kates
Videos | Standing Up for Yourself and Your Friends and Friendship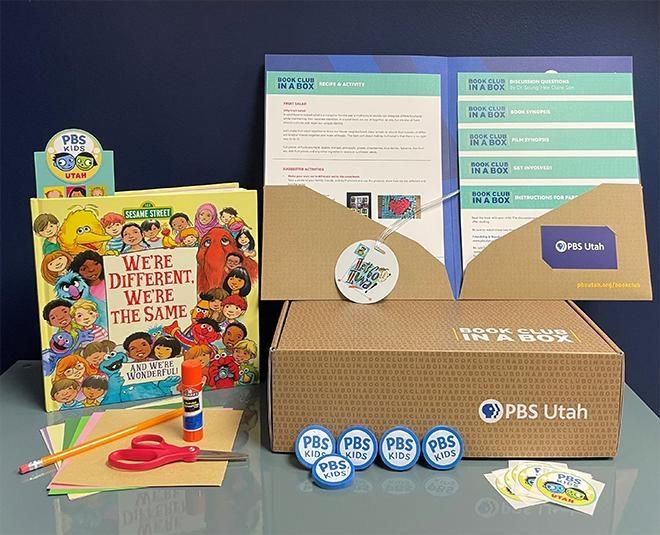 The book We're Different, We're the Same and the videos Friendship and Standing Up for Yourself and Your Friends tell the stories of friendships and what differences and similarities mean for friendships. All children are different and we can be friends with each other and stand up for each other. Both the book and the videos honestly admit differences in our looks, however they go beyond our outer differences and address our shared inner world. At the end, we are all the same; we act, feel, live, work, and play the same way, even if we look different, we're alike. The shared similarities and differences both contribute to our world.
As children get through the book and the films, they may want to think and share about following questions: Do we have many different friends? Are we still friends when we are different? How would your friends feel when they hear that they look different and cannot be friends? How can we support and stand up for friends?

In partnership with:
---
Icons Box
Book: Wake the Others by Willy Palomo
Videos: Aloha Iosepa, Mana, and Sistership
Immigration, religion, belonging, and the merging of all three, shape the identity of so many Utahans who came to the state to find a home away from their native lands. They can find this in the church or in art or on the pitch. Both Willy Palomo's book Wake the Others and the three documentary films produced by local high school filmmakers explore the what happens at the intersection of immigration, religion, and belonging and how this has shaped them, their families, their identities.
Your book club will discuss why cultural tradition carried across oceans, mountains, and generations is so important to families in Utah. You'll explore the notion of home and how that changes for each one of us as we migrate from one place to another. Have you had to make a major move in your life? What prompted that move? Was it religion? Family? Work? As we comprehend the challenges and triumphs of the people in the short films as well as the book, do we have a renewed perspective on our neighbors who have different cultural backgrounds? Have we learned something new about ourselves?
Please note: This book contains profanity and graphic descriptions. Book Clubs should consider the sensitivities of their participants before registering.

In partnership with:
---
Trailblazers Box (limited availability)
Book | The Invention of Wings by Sue Monk Kidd
Film | Martha Hughes Cannon
In Sue Monk Kidd's The Invention of Wings, and KUED's documentary, Martha Hughes Cannon, we meet three women who historically (and fictionally) pushed against established women's spheres and lived in worlds of contrast. Sarah Grimke, a daughter of slave owners who became one of the first female abolitionists and women's rights activists; her fictional slave, Hetty "Handful" Grimke, a masterful seamstress who expertly used her ingenuity and imagination to push boundaries; and Martha Hughes Cannon, a pioneering physician, suffragist, polygamist wife, and the first female state senator in Utah and the United States. Discover how these women navigated complex social, political, and religious structures and how they evoked change in spite of disappointment, loss, betrayal, and ostracism. Consider how these women's stories, their themes, and the abolitionist and women's rights movements impact us today. How do they influence our desire and ability to advocate for others and ourselves? How do we--and our present world--embody contrasts and contradictions? And how do we navigate complex social, political, and religious structures with personal integrity?

In partnership with:
---
Memory Box
Book | Turn of Mind by Alice LaPlante
Film | The Gerda That Remains
The experience of memory loss is one that radically reshapes our sense of self, of worth, and of belonging in the world. It is also a common experience: more than 55 million people live with dementia worldwide, and there are nearly 10 million new cases every year. This book club box engages with two very particular and vivid stories about dementia: a documentary film about a scholar of mathematics and literature, defined by her "life of mind," who grapples with early onset dementia, and a novel's fictional telling of a woman with dementia who tries to piece together clues about a friend's death alongside increasingly fragmented memories of her own life. These texts raise profound questions: when our minds and capacities change significantly, are we still the same people we used to be? How can people with dementia gain access to pleasure and joy? What assumptions about an individual's value or worth are built into discussions about dementia and end-of-life decisions? How might society need to change to provide necessary supports and the capacity to thrive to people with dementia?

In partnership with: