Battle Over Bears Ears, a one-hour documentary produced by PBS Utah, explores the deep connections to place and the vast cultural divides that are fueling the fight over how the Bears Ears Monument is protected and managed. Whose voices are heard, whose are lost, and how do all sides find common ground in this uncommon place?
Watch Preview
About this Film
At its heart, it's a battle for homeland and sovereignty. Bears Ears, a remote section of land characterized by its distinctive red cliffs and abundance of juniper and sage, is at the center of a fight over who has a say in how Western landscapes are protected and managed. With the stroke of a pen, President Obama designated 1.35 million acres in Utah's southeastern corner as the Bears Ears National Monument. But Obama's move also renewed the fight between Westerners and Washington, and furthered the divide between those who live in the monument's backyard, their elected leaders and those who see preservation as a vital and urgent need.
For many local San Juan County residents, the Bears Ears National Monument represents land that was occupied by their Native American ancestors, or homesteaded by their pioneer forefathers. It's a land that they're deeply connected to, land they feel is meant for them to use and manage. Most local monument opponents hold the belief that they — not environmentalists from Salt Lake City, not bureaucrats in Washington, D.C., not backpackers who trek through the canyons once a year — are the best stewards of the place.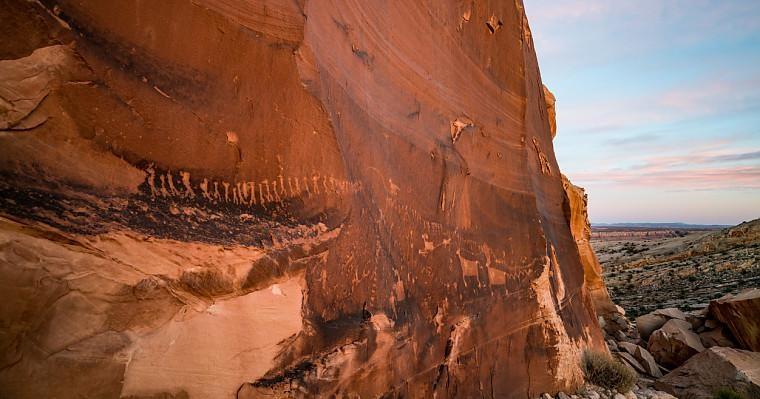 Procession Panel, Bears Ears National Monument [KUED]
But others are calling for greater protections, especially tribal leaders from five tribes with cultural ties to the region. For them, Bears Ears National Monument is a connection to their past, one where their ancestors lived. Over thirteen tribes trace their lineage to this place that is estimated to contain over 100,000 archeological and cultural sites. Ancient ruins, burial grounds, kivas and petroglyphs are scattered throughout its mesas and canyons.
The whole situation is complicated by a change in leadership in Washington D.C. in 2016, President Trump reduced the Bears Ears National Monument by 85% and breaking it into two separate Monuments -- renaming Bears Ears to the Shash Jaa National Monument, and creating the new Indian Creek National Monument. Tensions are mounting. Law suits are pending. As the political battle wages, it's easy to forget the unique landscape that, for many, is sacred, special, and vital to life.