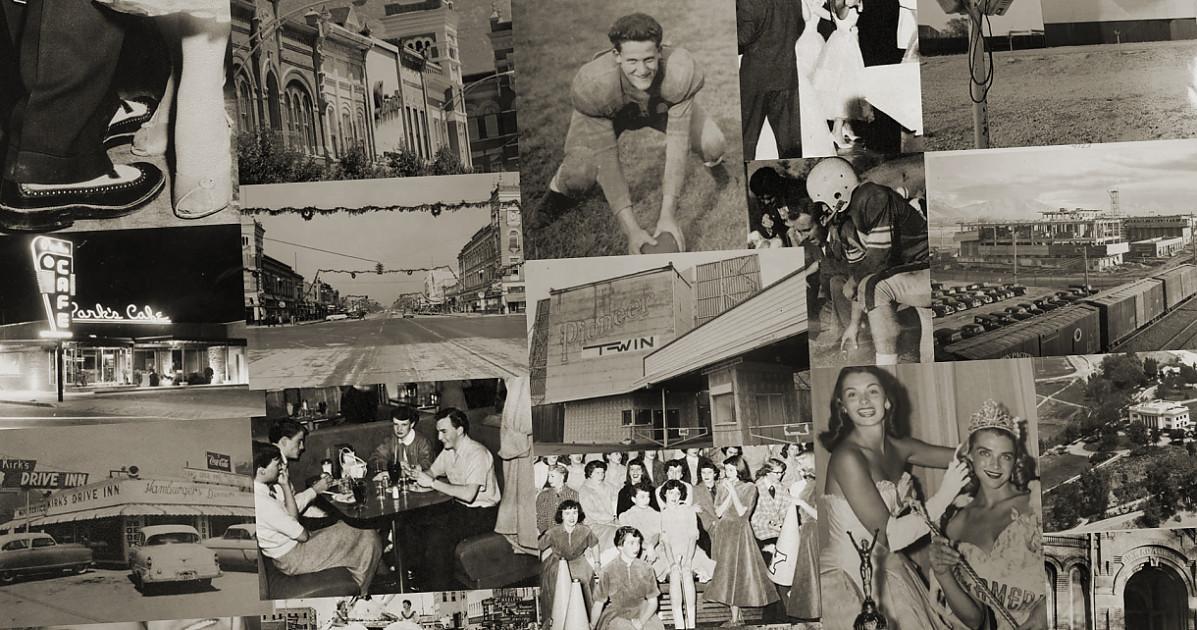 Utah in the 50's
Revisits Golden Times
It was the best of times. Everyone liked Ike, and they loved Mayor Earl J. Glade. Young people drove snazzy cars and wore snazzy clothes. And when Utahns went downtown to shop, eat or go to the movies, they dressed to the nines.
Following the Korean War, the decade of the '50's seemed a time of tranquility and joy. It was a time of new prosperity and unprecedented growth around Utah--when malt shops ruled, poodle skirts were in, and Elvis was King. Utah in the 50s: Salt Lake City with Ted Capener takes a playful jaunt down memory lane, featuring archival photographs, original music and personal anecdotes from the people who know the era best.
"It was a time when television was new," says Capener, host of the new series. "The nightly news on WXIX-Channel 4, an experimental station in those days, meant a lot of fooling around by a couple of guys viewers might remember. And of course there were those marvelous "Romper Room" Misses. Some viewers might even catch a glimpse of themselves as 'Doobies.'"
Nine holes at Bonneville, as Capener recalls, were followed by clubhouse sessions with friends. The Deseret Gym, of course, was a favorite. Why was it, Capener wonders, that girls wore bathing suits while boys had to swim in the nude?
Drive-in movies often led to sleeping children in the back seat, cuddling couples in the front, and for hard-pressed teens, hiding in the trunk to get in free. And Salt Lake's "passion flats"--now covered by houses--eventually became a quaint memory.
While women rarely went downtown without their hats and gloves, the younger set wanted Jantzen sweaters and Joyce shoes. And until Elvis arrived late in the decade, Utahns listened to Nat King Cole at the Rainbow Randevu, Louis Armstrong at Lagoon or Stan Kenton and June Christie at Saltair.
Interviews and personal accounts bring this golden decade to vivid life. While producing Utah in the 50's, Capener spoke with KUER's Gene Pack, "Miss Julie" herself, Edna Anderson-Taylor, and Bob Welti and Paul James, part of the original nightly news team.
"Cinemascope and stereo came to the movies--and so did we," says Capener. "Not in jeans and T-shirts, but in coats, ties, dresses and heels. We were always taken to our seats by uniformed ushers with flashlights, who later would ask us to be quiet. We loved Doris Day and Clark Gable and we loved Technicolor."
Utah in the 50s: Salt Lake City chronicles the memories and places of a golden era--memories that, eventually, could be lost," says Elizabeth Searles, producer of the series. "It has always been important for KUED to preserve Utah's stories, and the people we talked to truly enjoyed reminiscing about a simpler, more innocent time."
Original music for Utah in the 50s was composed by Jimmy Reed and Mark Chaney. Funding made possible by The George S. and Dolores Doré Eccles Foundation.

Support your local PBS station in our mission to inspire, enrich, and educate.
Donate