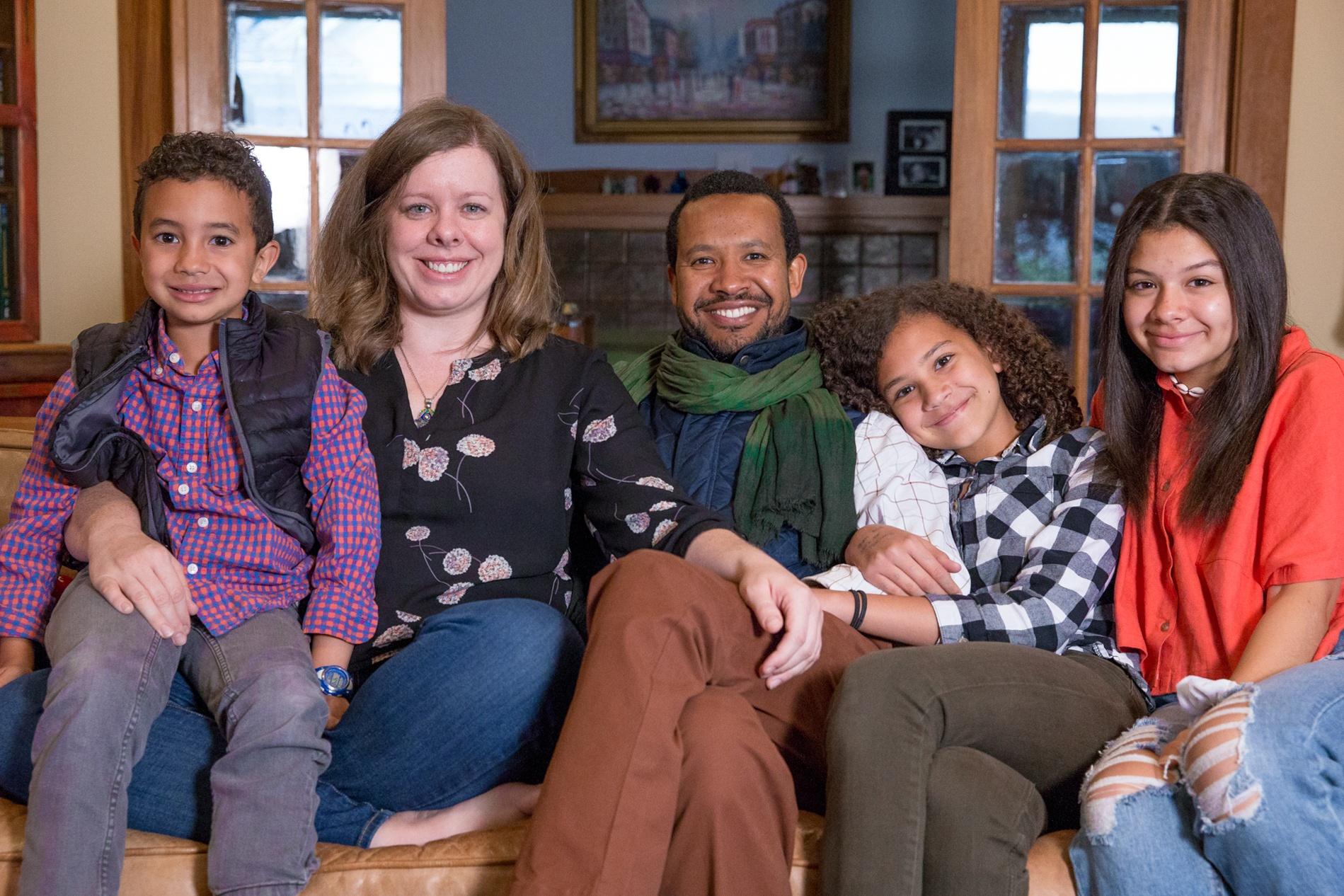 Jami + Mohamed
Jami was born in Utah but spent most of her childhood in Michigan. As a white girl growing up in a predominantly white, Midwestern neighborhood, Jami did not spend much time thinking about race and racism as a child. It was not until college that Jami began thinking critically about race, gender, and sexual identities. As she began to challenge her views on the world, Jami sought opportunities to travel and explore new ideas. After returning from a semester abroad in Delhi, Jami and Mohamed were set up on a blind date. In the sort of whirlwind romance that terrifies parents everywhere, Jami and Mohamed married four months after their first date.
As newlyweds, Jami and Mohamed traveled to Morocco so Jami could meet Mohamed's parents, and see the village where Mohamed was born and raised. During the four months that they spent in Mohamed's desert village, Jami learned some basic Arabic, fell in love with Mohamed's family, and developed a profound appreciation for Moroccan cuisine.
After returning to the U.S., the two began building their careers and their family. Jami and Mohamed, now married for 15 years, are delighted to be parents of three beautiful, bi-racial, bi-cultural, multi-religious, multi-nationality children. Their household happily celebrates the religious and cultural traditions of both parents — celebrating Eid, fasting for Ramadan, decorating for Christmas and sharing the teachings of both the Prophet Mohammed and Jesus Christ. The two are committed to raising children who are comfortable in both cultures, and who have the knowledge and experience to navigate all the beautiful parts of their identities.
After the birth of her children, Jami returned to school to pursue a Master of Science in Public Health. She knew she wanted to spend her career researching health disparities — particularly as they relate to women's health. She is currently a researcher at the University of Utah where she is working on a project to expand access to contraception for individuals in Utah, as well as a project to use simulation training to improve management of obstetric emergencies in Bihar, India.
Jami is deeply grateful to the activists, authors, researchers, and politicians of color who have written and spoken the truth about their experiences. She is also incredibly thankful for the family members, friends, and community who have trusted her with their stories, and from whom she has learned how different the U.S. can be for those whose skin is not white.
Jami and Mohamed are grateful for the vibrant community they have woven together, and in which they are raising their kids. They are grateful for dinner conversations in French, Arabic, and English all mixed together, and grateful that Jami's Mormon parents always remember to cook halal meat for Mohamed's Muslim parents.
Mohamed was born in a small village in the south of Morocco, and grew up in Casablanca. His dream of coming to the United States became a reality when he landed a job at Walt Disney World Resort in Orlando, Florida as a Cultural Representative. After his time at Disney World, Mohamed enrolled in college. His degree in Arabic and English Literature earned while in Morocco wasn't recognized by the U.S. education system.
Mohamed's formal education in the United States took him from California, to Illinois, and finally to Provo, Utah, where he earned a Bachelor's Degree in Anthropology from Brigham Young University. There he met and married his best friend Jami. After college Jami and Mohamed moved to Wisconsin. While serving in the United States Navy, Mohamed decided to further his education. He earned his Master's Degree in Human Resources Management. After his time serving in the Navy, Mohamed worked at the Department of Veterans Affairs.
Mohamed and his cousin are now the proud owners of ZAHARA, a Moroccan pop-up restaurant in Salt Lake City, which curates a space where authentic Moroccan cuisine is paired with Moroccan stories, told by Mohamed, taking the guest on a Moroccan cultural journey. Mohamed and his wife Jami are the proud parents of three beautiful children, Amira (age 14), Norah (age 11), and Naim (age 6), "who are so kind, thoughtful and considerate," adds Mohamed.