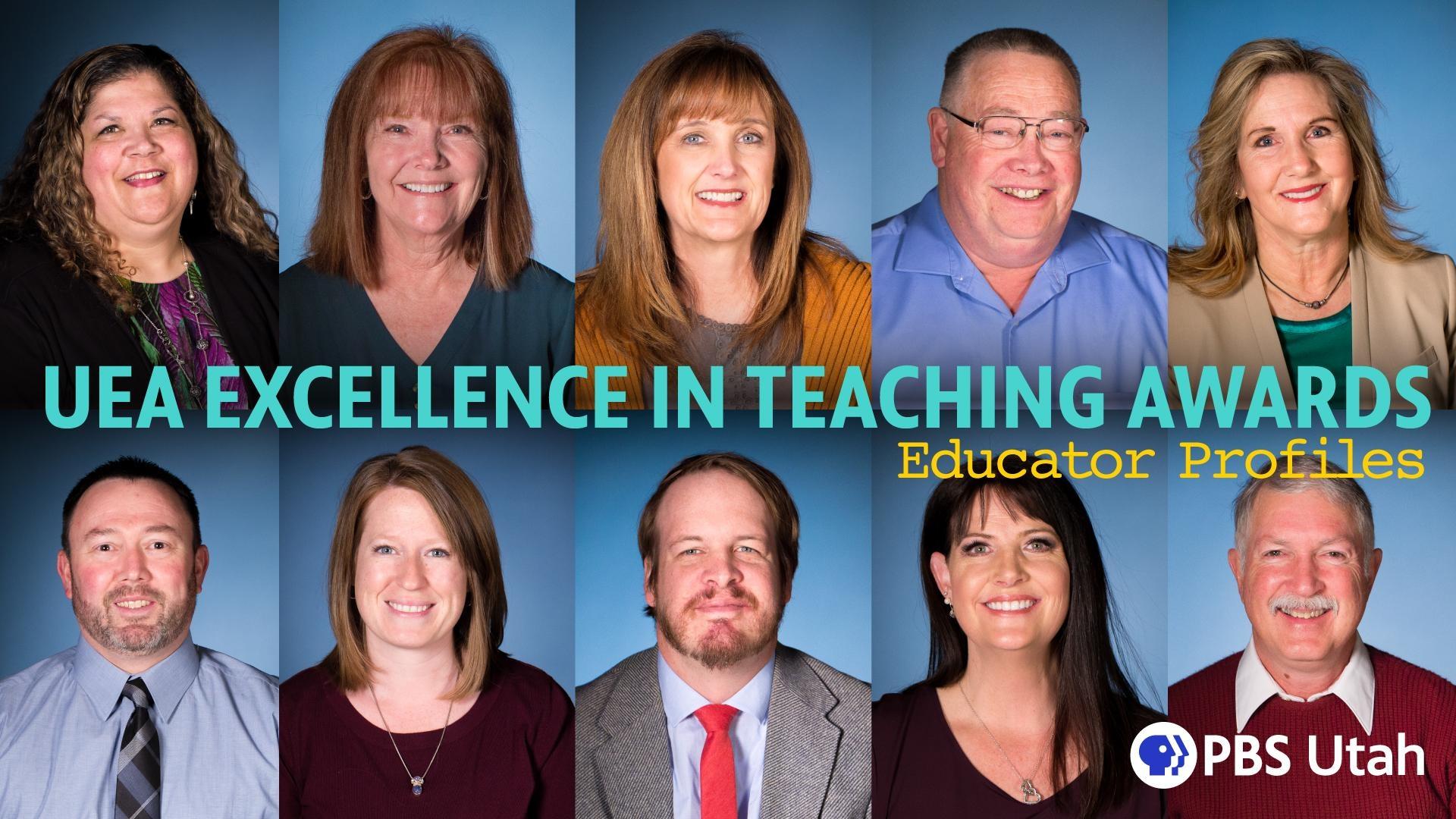 PBS Utah, with its 60-year commitment to education, has partnered with the UEA to produce video profiles of the Excellence in Teaching Award winners.
The Excellence in Teaching Awards are presented each year to Utah public school teachers whose efforts in the classroom have significantly impacted the life of an individual child or group of children. In 2016, PBS Utah became the official media sponsor. The UEA has sponsored the Awards since 2000.
Sharon Bergin
Special Education, Monroe Elementary
Love and positivity emanate through Sharon Bergin as she adapts her teaching to the needs of each individual student. A colleague writes, "when there are difficult situations, she is the calming influence that is levelheaded and brings others back to reality." She does not need an official assignment for her to visit a teacher, provide comfort and give good advice.
Bergin always keeps an eye out for what might impede a student from learning. In one case, a child was having difficulties learning to read. Bergin correctly identified a hearing impairment and worked with the parents to obtain cochlear implants for the student. When reading 'James and the Giant Peach' for a class activity, Bergin created a large peach where she could sit and read. Each student also had the opportunity to sit in the peach and read a portion of the story. As her colleague states, "because of her efforts, regular and special needs students at her school have some of the best testing and on-level percentages found in the state."
Marsha Curtis
History, Vernal Middle School
Utah history comes to life in Marsha Curtis' class. Whether it's going on a virtual pioneer trek or building books with hand-drawn illustrations, she is very passionate about her curriculum and her profession. Many of her current and former students feel comfortable enough to visit her during their free time when they need advice, to feel validated and appreciated or just to grab a treat from her "epic" candy bowl. Curtis is always there for her students.
In addition to her work in the classroom, Curtis serves as president of the Uintah County Education Association and leads initiatives for member advocacy and reform in her community. She has fought tirelessly to bring mental health services to Uintah schools and is a committed human rights activist. Through her passion and efforts, Marsha has made an amazing impact as an educator. As a colleague writes, "she is truly a fiercely caring person whose warmth and caring has impacted hundreds of students in Vernal for the better."
Heather Fairbank
Kindergarten, Hillcrest Elementary School
Hillcrest Elementary has a diverse student body. In this environment, Heather Fairbank works closely with other faculty to make sure students with unique learning challenges are taught with a high level of love and compassion. Fairbank realizes each of her kindergarten students are beginning their academic career and she must cater learning to each unique student need and interest.
Fairbank understands that not all children come from the same economic, social and academic backgrounds. She spent a summer designing motivating and engaging "interest areas" in her classroom for students to choose. These include art, science, ABC corner, building, play, cause and effect and sensory areas.
A colleague wrote that Fairbank's "relentless pursuit of excellence drove her to advocate for a full-day kindergarten option" to help students catch up on pre-kindergarten concepts. "In other words, by closing the gap in kindergarten, these students have the potential to succeed the rest of their time in school."
Stephen Haslam
English, Copper Hills High School
Stephen Haslam believes in the potential of his students and is devoted to giving them resources to achieve their goals. Last year, along with his late friend Michelle Szetela, he assisted in creating and running the only public high school writing center in Utah. Dr. Haslam continues to run the center and is looking to expand it into a state-wide system for High School students in Szetela's honor.
Haslam founded the Slam Poetry night at Copper Hills High, bringing local poets to the school each year to teach and inspire his students. This led him to organize the Utah Poetry Slam Invitational, which attracts about 400 students from 10 schools to attend workshops each year. A student teacher wrote, "(Haslam) has pushed me to be a stronger, more authentic teacher than I think I could have been otherwise." He cares, not only about how students succeed in his class, but how they succeed in other classes and in life.
Amy Hilton
Second Grade, Willow Canyon Elementary
Structure and positive reinforcement are key for Amy Hilton as she strives to make educational goals for her students and works to develop a close team-approach with parents. A colleague wrote that Hilton "presents her students with high expectations. She knows they can succeed, and as a result, she challenges them, demanding their best." Hilton achieves this by setting goals and using a rewards system to help motivate students. She finds the class really comes together to support students in reaching their individual goals.
Hilton's relationship with her students' parents also helps her teach more effectively. When a student's father was having an operation, Hilton agreed to relay messages from the mother during the school day. The mother wrote that on the day of the father's appointment, Hilton "kept her phone out. The instant I texted, she called (my son) over, handed him her phone, and let him read 'Everything was good!' When I picked him up after school, he eagerly told me how relieved he felt about his dad and how she let him read my text himself. Such a small, thoughtful action truly becomes momentous to a child."
Patty Johnson
Sixth Grade Science, Cedar Middle School
Patty Johnson always makes her students feel welcome. She's made it a priority to keep a positive attitude through difficult times and to provide a comforting environment where students can learn. After being diagnosed with cancer, "Patty has been an example of true nurturing," a colleague shared. "Only two days (after the diagnosis), school was to begin and Patty showed up with a smile on her face and ready as ever to start her new year with cancer and dealing with the effects of chemo."
Besides being an excellent classroom teacher, Johnson has served as advisor for the yearbook, student council and numerous committees throughout her career. For more than 20 years, she wrote and directed a play inspired by Dr. Seuss for her students to perform. "I loved how she auditioned our class and picked the part that was just right for each student to bring them out of their shell," wrote a fellow teacher. "This was one of Mrs. Johnson's ways to ensure that students enjoyed school."
Mary Knight
Sixth Grade, Heritage Elementary School
Mary Knight uses her compassion and positivity to work wonders with her students as they learn through engaging, hands-on activities. Whether it be making models of the phases of the moon with Oreo cookies or having her students engineer and test weather devices, students love being in her class and remember her activities fondly. Her "never-give-up-on-a-child" mentality pushes Knight's students to achieve their potential. All her math students have passed proficiency tests with an 80% or higher due to her diligent interventions.
Compassion is key to reaching difficult students and Knight has plenty of it, said a co-worker. One year, a student with a difficult home life struggled with behavioral and academic issues. However, due to Knight's efforts of having one-on-one conversations, his self-esteem grew and he made considerable academic improvement. The student told another teacher, "I'm so happy. I have never felt successful in math until now. I really love being in Mrs. Knight's math class."
Neal Peacock
History and Theater, Emery High School
Neal Peacock has taught history for more than 35 years. His colleagues joke that he has forgotten more history than they have ever known. After teaching the AP History course for over 20 years, Peacock moved to teach mainstream students in order to give them a love for history as well. Besides history, Peacock has directed more than 200 plays, giving up many after-school hours directing and working with students. "Every year I tell myself his school musical for the year was his best and he will never be able to top it, and every year I am wrong," wrote a co-worker.
One of Peacock's students said, "Neal encourages students to believe in themselves and they learn to believe in themselves because he believes in them." Peacock shares his passions with his students and helps them find their own. His students continue to come to him for advice and knowledge long after they graduate.
Jesse Roberts
Social Studies, Spanish Fork High School
Not seeking recognition for his contributions to both his school and community, Jesse Roberts' top priority is providing opportunities for real student learning. "He implements researched-based tools to collect data to help identify areas of student learning and move his practice forward," says a colleague. Roberts teaches students from a wide range of academic backgrounds. He makes a point to set academic goals with each student then supports them until they achieve those goals.
Besides teaching, Roberts spends his summers working as a firefighter and is also a coach at the school. He uses his free time to take workshops to better his teaching. When his school designed a program to help at-risk students graduate, Roberts was chosen to be an adult advocate because of his obvious talent in connecting with students. One student said of him, "Mr. Roberts has been helping me get good grades. He helps me with my disability to do better in all my classes. I am so grateful for his help."
Dan Zaleski
Fifth Grade, Hurricane Elementary School
Dan Zaleski is first and foremost an advocate for his students. He works to have a personal relationship with them so they can succeed. Along with teaching fifth grade, Zalenski is a partner teacher in the Spanish Dual Immersion Program. A parent wrote, "my daughter used to hate math and considered it her worst subject…It was too hard. After Mr. Zaleski taught her and convinced her that 'math always makes sense and has patterns' she learned to understand how math works…Now she loves math and it is her favorite subject."
With more than 33 years in the classroom, Mr Zalenski has impacted multiple generations of students. A colleague writes, "Not only has he taught the children of former students, he is now teaching the next generation of grandchildren of his former students. Over twenty of his former students have become teachers themselves, and two are now college professors due in part to Dan's influence."