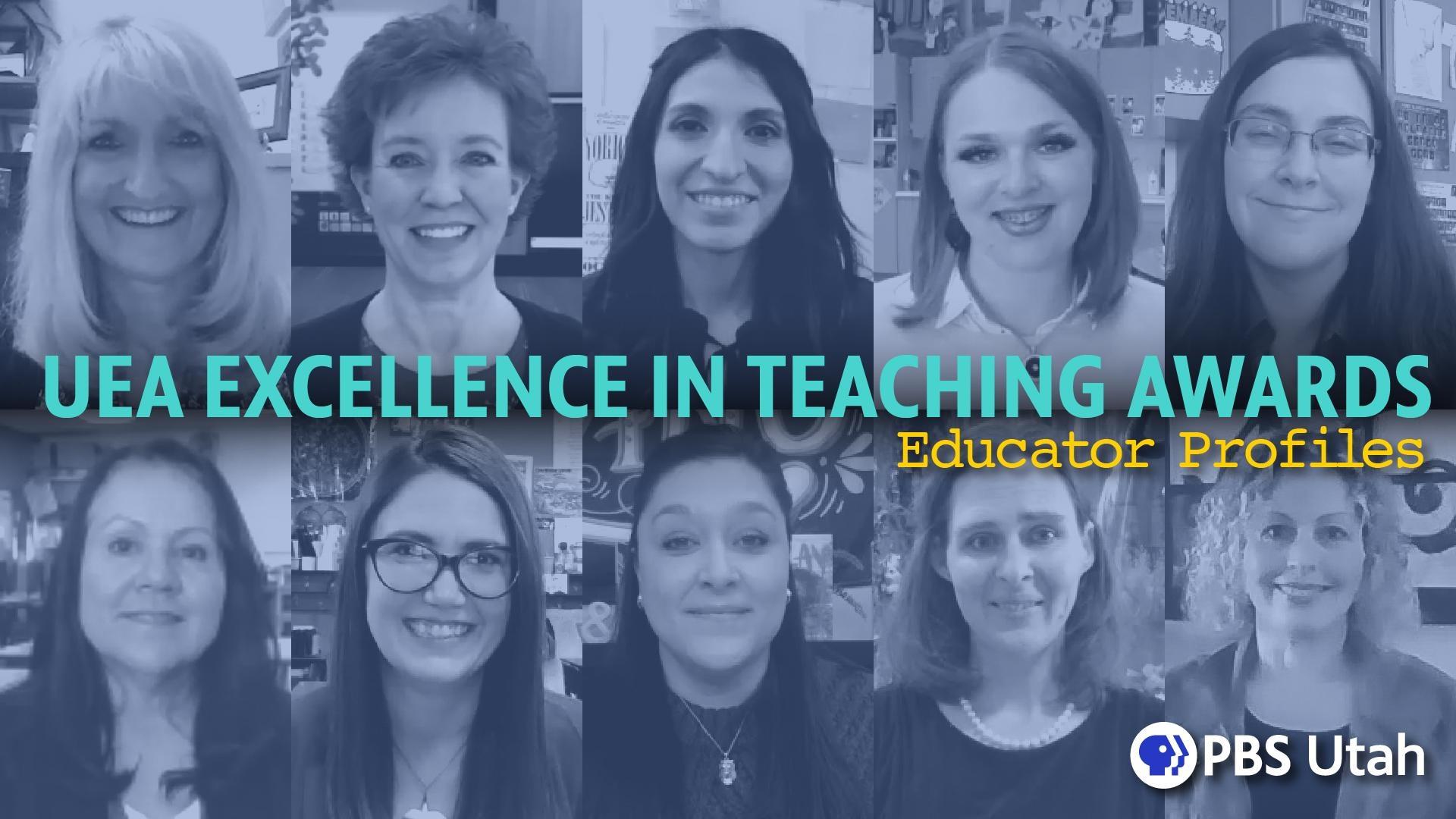 PBS Utah, with its 60-year commitment to education, congratulates this year's Excellence in Teaching Award winners.
The Utah Education Association (UEA) Excellence in Teaching Awards are presented each year to Utah public school teachers whose efforts in the classroom have significantly impacted the lives of their students. 2020 was an unprecedented year for all of us, and these Utah teachers went above and beyond to ensure their students continued to receive a high-quality education. PBS Utah is honored to produce the video profiles spotlighting these public school teachers.
Denise Abbott
Medical Anatomy and Physiology Medical Assisting, Timpview High School
Hands‐on lab experiences created by Denise Abbott help her students visualize physiological processes and reinforce anatomy. She supports classroom experiences in her medical anatomy and physiology classes with hospital tours, cadaver lab experiences, competitions, reinforcement of test‐taking and study skills, as well as working on literacy and numeracy abilities.
Guest speakers in Abbott's classes include many in non‐traditional roles such as women firefighters/paramedics and male nurses. These visitors, "help students realize they can succeed in any chosen career," according to a fellow teacher. Many of her previous students have continued to study health sciences at the university level and have successful careers in medicine, nursing, teaching, health sciences, athletic training, and pharmacy.
"When a teacher affects your life as greatly and as much as (Abbott) has affected mine, it can be difficult to put it into words," said a student. Another student said, "(Abbott) has helped me this year not only realize the love I have for the human body, but she also pushed me to be prepared for higher education. I don't think I would be so sure about my future without her influence."
Jennifer Barone
Preschool, Utah Schools for the Deaf and the Blind South Region
The three-year-old deaf students in Jennifer Barone's Listening and Spoken Language preschool class may not fully appreciate their teacher's dedication, but her colleagues understand, calling her "a miracle worker both in and outside of the classroom."
Barone's classroom features a store, complete with a cash register, money, food, and a shopping list for students to decide what they need to purchase. "She constantly looks for ways to enrich the students' play," wrote a fellow teacher. "One time she found push‐pull toy cars and took her students to the gym so they would be able to play with the cars on an endless floor space. She understands that a child's play is their work."
When the pandemic forced the closure of schools, Barone drove great distances to deliver supplies to her students. She checked in on the families to make sure they had what they needed. When she discovered one student needed clothing, she found ways to have clothing donated to him with so much clothing donated she was able to contribute extra to the preschool emergency box.
Alexandra Castellanos Smith
Spanish and ESL, Sand Ridge Junior High School
Using yo-yos to talk about force and motion, west coast rap selections to explain poetic structure, Legos to teach parts of speech, or a murder mystery party to reinforce content are not unusual for Alexandra Castellanos Smith. She has high standards for all of her students but never makes them feel bad for not understanding.
As a former ESL student herself and the only minority teacher in her school, Castellanos Smith is a role model for her Latino students. She serves as advisor for Latinos in Action at her school where she organizes student‐centered projects at local homeless shelters, elementary schools, and cultural events. She helps her students write resumes, learn how to dress for interviews, and identify their individual strengths to make themselves marketable.
"Alexandra exemplifies teaching excellence because she always works to uplift all students, even those who struggle most," wrote a fellow educator. "She can often be caught saying things like, 'it's okay you're learning' or 'wow your brain is making such big connections.' Saying she's proud of her kids is second nature."
Mindy Layton
Kindergarten – Fifth Grade ESL, Woodrow Wilson Elementary School
Whether she is painting scene props with students for her latest opera or compiling data for teachers to target and support at‐risk students on her school's Student Support Team, Mindy Layton exemplifies how to maximize student learning on every level. She amplifies ESL student interactions with multi‐sensory chants, callbacks, and songs to remain engaged and on task.
A student assigned to Layton's intervention group was advancing well, but a quarter into the school year, his progress plateaued and his behavior became disruptive. Together with the classroom teacher, she visited the student's home where they discovered family health problems, an infant occupying much of the family's time, and the student having difficulty communicating with family because they primarily spoke Spanish but he spoke mainly English. The family was not aware of the student's behavior at school and were "deeply appreciative of our concern and were receptive to problem solving," wrote the classroom teacher. "Essentially our visit changed the course of (the student's) entire school year, allowing him to continue his English language development as well as feel loved and supported by two adults outside of his home."
Rebecca Diamond
Sixth Grade, Dry Creek Elementary School
While teaching about heat transfer, Rebecca Diamond has her students read how space shuttles keep from burning as they enter the atmosphere, then she has them build a shield from classroom materials to protect an egg. Prototypes are tested with a blowtorch. Many eggs survive because Diamond helps her students understand the concept so well.
Diamond introduced an after-school coding club and a chess club to help students learn basic critical thinking skills. Between the two clubs, about 50 students a week in grades 2-6 participated.
Integration and research are large parts of Diamond's teaching pedagogy. Her students use a 3-D printer to create medieval castles using geometry skills. They build a civilization out of candy to demonstrate how they would "survive" in the environment. "Students walk away from these projects not only understanding each skill, but how they can relate to one another," wrote a colleague. "Each individual in her class knows that they are loved and has at least one person who believes they can succeed and has someone who is deeply invested in their success."
Theresa James
Agricultural Science, Monument Valley High School
Knowing each student by name and where they are academically, socially, and emotionally is very important to Theresa James. She celebrates student successes and often jokes with students in Navajo or uses English play on words like only an indigenous person can. She shares her personal stories to let her students know she understands their struggles first hand. She does whatever she can to promote quality education so the students in this remote Utah community have access to opportunities.
James coordinates a student garden project at the school and takes students to local farms and gardens to volunteer their service. She provides summer basketball camps, coaches girls basketball, and is an advisor to the school's Future Farmers of America (FFA) program.
"[James] is always willing to share her knowledge of her culture and language," wrote a co-worker. "Her leadership and communication skills are apparent when the faculty discusses best practices in education community response to ideas to be implemented or how to make improvements on our school plans."
Heather Reich
Sixth Grade, Majestic Elementary School
"My name is Heather Reich. I teach sixth graders at Majestic Elementary and I love my job." This is how Reich introduces herself each time she speaks to the Jordan School Board, which she has been doing each month to help save the school community she loves. Heather is a master teacher with a passion for addressing each student's learning needs. She knows that the cumulative effect of small teaching moments with students each day makes a difference.
A colleague said, "Heather attended every Jordan Board Meeting from the time it was announced that Majestic would close to the time the Board announced Majestic would remain open. She didn't just attend. She took the time to speak during public comments at every meeting. Each time she spoke, she had a different reason for Majestic to remain open. She shared specific examples of how the community used the school."
A former student said that "Ms. Reich is kiddish in a good way. She makes work fun." Another student added, "Ms. Reich motivates us to do our work. She doesn't baby us."
Stephanie Ruiz
Eighth Grade English and Latinos in Action, Hillcrest Junior High School
Stephanie Ruiz creates engaging and relatable lessons that allow her students to be empowered in the learning process. "She establishes an environment where the learning and assignments become part of who the students are rather than something that they merely turn in for a grade," wrote a fellow teacher.
Ruiz organized a Latinos in Action program to ensure all students feel represented. The course includes a Latinx writer unit where students are introduced to Latinx authors' poetry and literature and a civil rights/social justice unit that requires students to critically examine historical and current issues.
Events organized by Ruiz to help bridge social gaps among students include a food drive, teacher appreciation events, and anti‐bullying programs. Other activities focus on team building, such as a pumpkin painting social, a marshmallow and noodle tower contest and a zombie apocalypse survival challenge. Students also complete a family and personal history presentation where they share their family stories and experiences. Before COVID, Ruiz had established an after-school boxing program called 'Take Command.' The program taught discipline, accountability, self-confidence, and teamwork through boxing.
Dari Thacker
Fourth and Fifth Grade, Silver Summit Elementary School
When Dari Thacker discovered her school was to become a blended learning "flipped" classroom school, she volunteered to help with the innovation. "She immediately began working on each and every topic and came in to meet with me regularly about what she had found and her ideas," wrote her principal. "She also attended every summer parent information meeting and listened to their questions and concerns and worked with me to resolve them. Dari was not hired until mid-August (of that year) but between April and August she spent [hundreds of] hours of her own time supporting the [school's] vision."
As an example of Thacker's focus on individuals, she got up very early one morning to make gluten-free donuts so a student could join with the others in a reward party.
Thacker understands that students must set themselves up for success. Mindfulness is a daily piece of the school day for both her remote and in-school students. She plans activities to help students implement the mindfulness skills they learn into their lives both at school and at home.
Carla Were
Eighth Grade Science, Hillside Middle School
With the onset of COVID and the transition to online learning, Carla Were wanted to continue making science fun for her students. According to a co-worker, her usual classroom is "full of spills, messes, noise, and lots of learning about science!" Were came up with the idea to provide a "science kit" for each student. She worked with other science teachers to find experiments that could be conducted at home. She then coordinated deals with suppliers, ordered the items, and spent most of her summer creating 600 science kit bags for every seventh and eighth grade student in the school.
In addition to teaching science, Were organizes the school's science fair and coordinates community service as advisor to the Junior Honor Society. Students also appreciate the hilarious wigs and costumes she dons at schoolwide assemblies.
"[Were] inspires students each day and works extremely hard to integrate effective teaching pedagogy into her classroom," wrote her co-worker. "Her students have great success because she cares so much about each of them and they all know it. She never gives up on any of them."