Watch 360 videos of the artists creating in Zion National Park!
To best enjoy your experience, please:
1) Use headphones, 2) click "Full Screen", 3) use mouse (or finger, if on a touch screen) to navigate around in the video, and 3) make sure volume is on!
Zion National Park 360 Video with musician and poet Hal Cannon of 3hattrio & artist Roland Lee
Zion National Park 360 Video with Hal Cannon of 3hattrio
Zion National Park 360 Video with Artist Roland Lee
Meet three artists who have spent their careers creating artwork inspired by Zion National Park.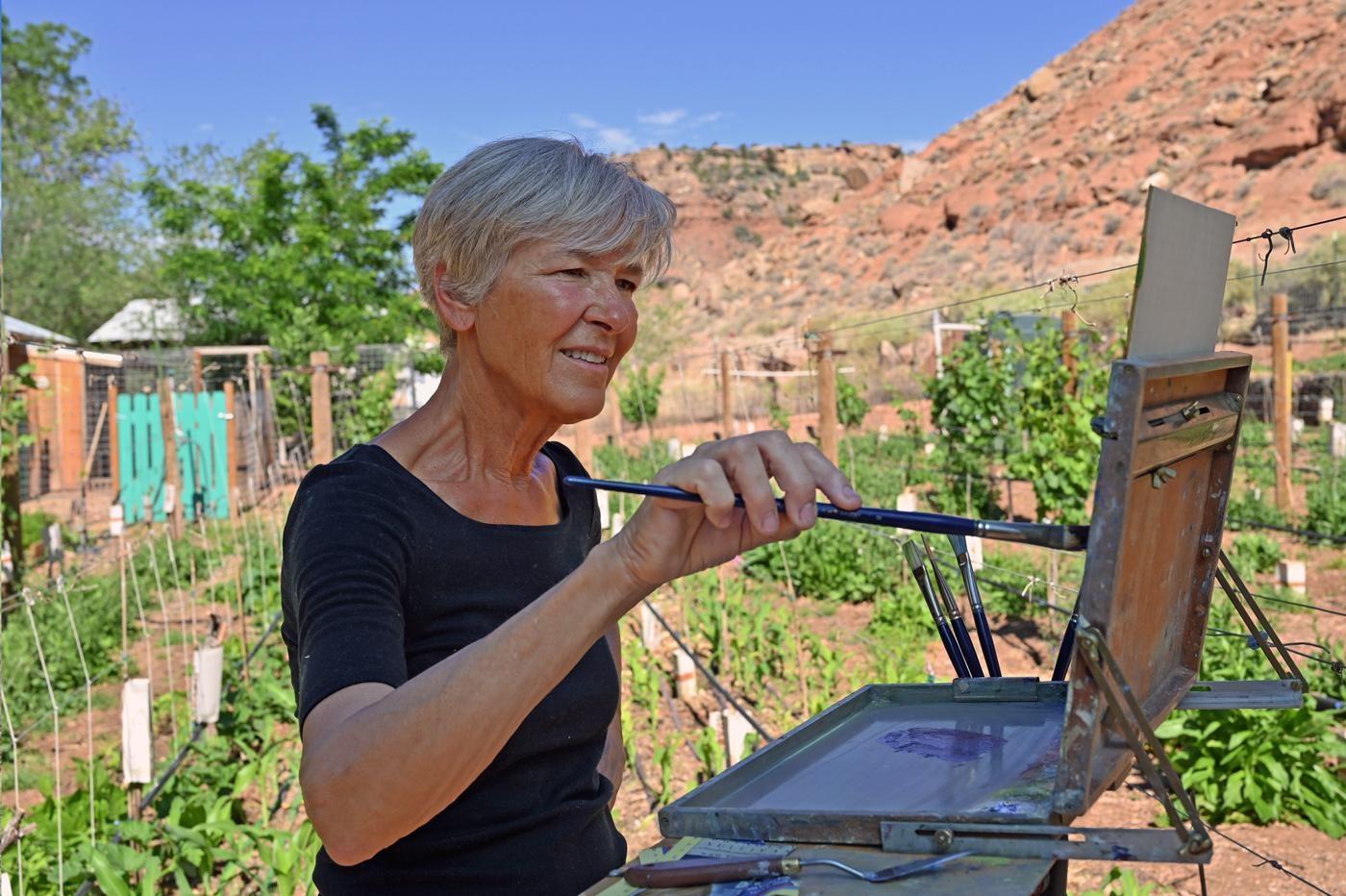 I am an oil painter who lives and works in the canyons of southern Utah.
Having earned a degree in geology, I spent years working outside as a geologist and National Park ranger. After formal academic art training from 1988 - 1995 I devoted my work to painting the landscape. Educated in the importance of painting directly from observation, I spent years painting outside, learning the way light plays on the land. Now I split my time between the roadways and trails surrounding my home and the studio.

My paintings portray the natural world and focus on communicating a sense of place, atmosphere and sunlight, retaining the immediacy of the painting experience. The landscape in a particular light triggers a strength of emotion in and I strive to paint in such a way that memory and emotion are triggered in the people who see my work.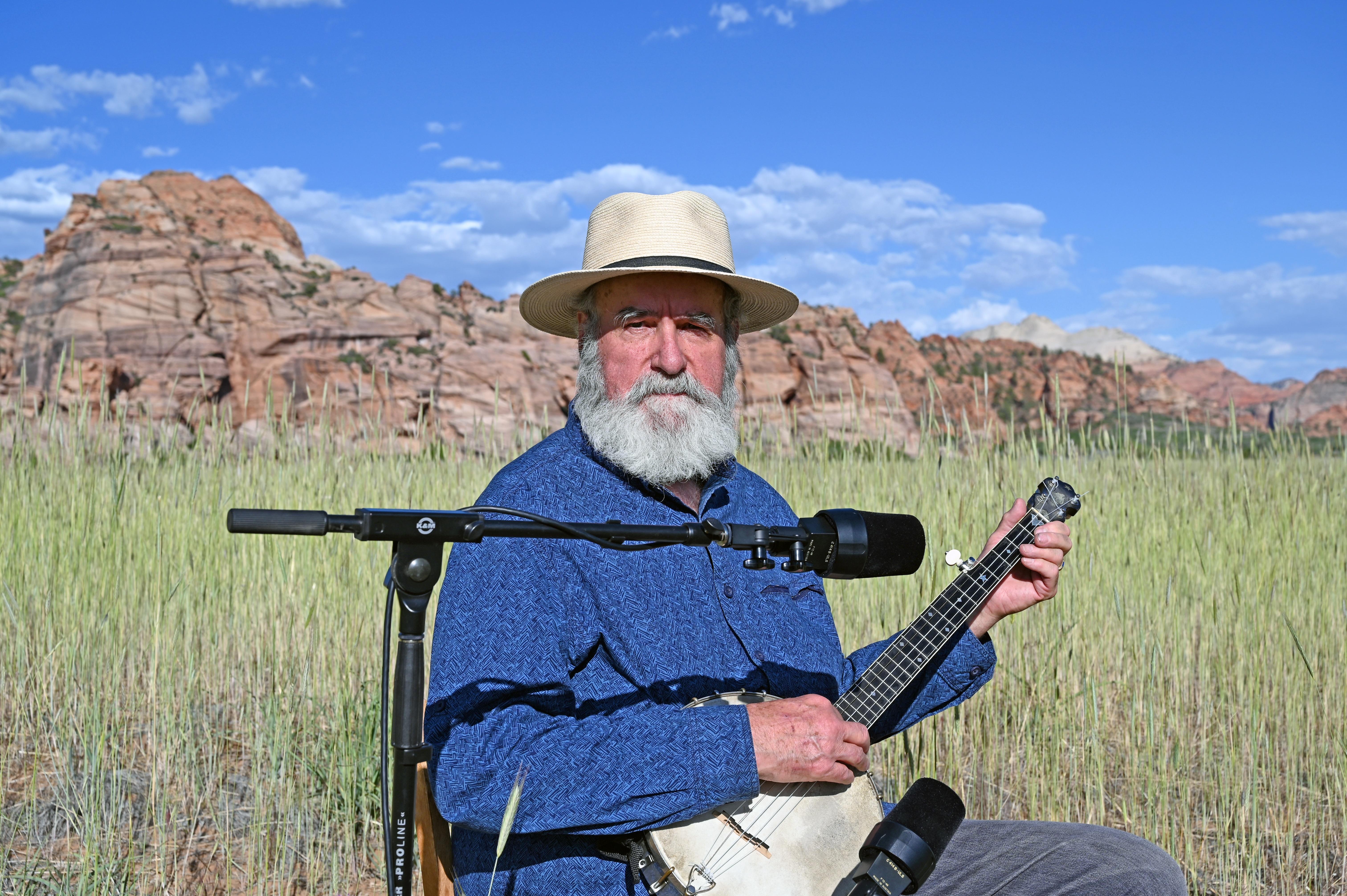 Zion SONG

Zion, whoa - ZION whoa
It's still the place that turns my head
I give my soul -to it.
Zion, whoa – Zion whoa
The ravens call to something grand,
— to something bigger than us all

Won't you carry me back
Long time, I've been away
Take some time to sort it out now
Stop at Zion on my way

No more fences to mend
No more false hearted friends
Zion, When you take me back again
I'm gonna make amends

Zion, You never judge me
Virgin River gives me water from her hand
When everything turns crazy
Zion — back home again

Lyrics by Hal Cannon
Watch 3hattrio perform this song on YouTube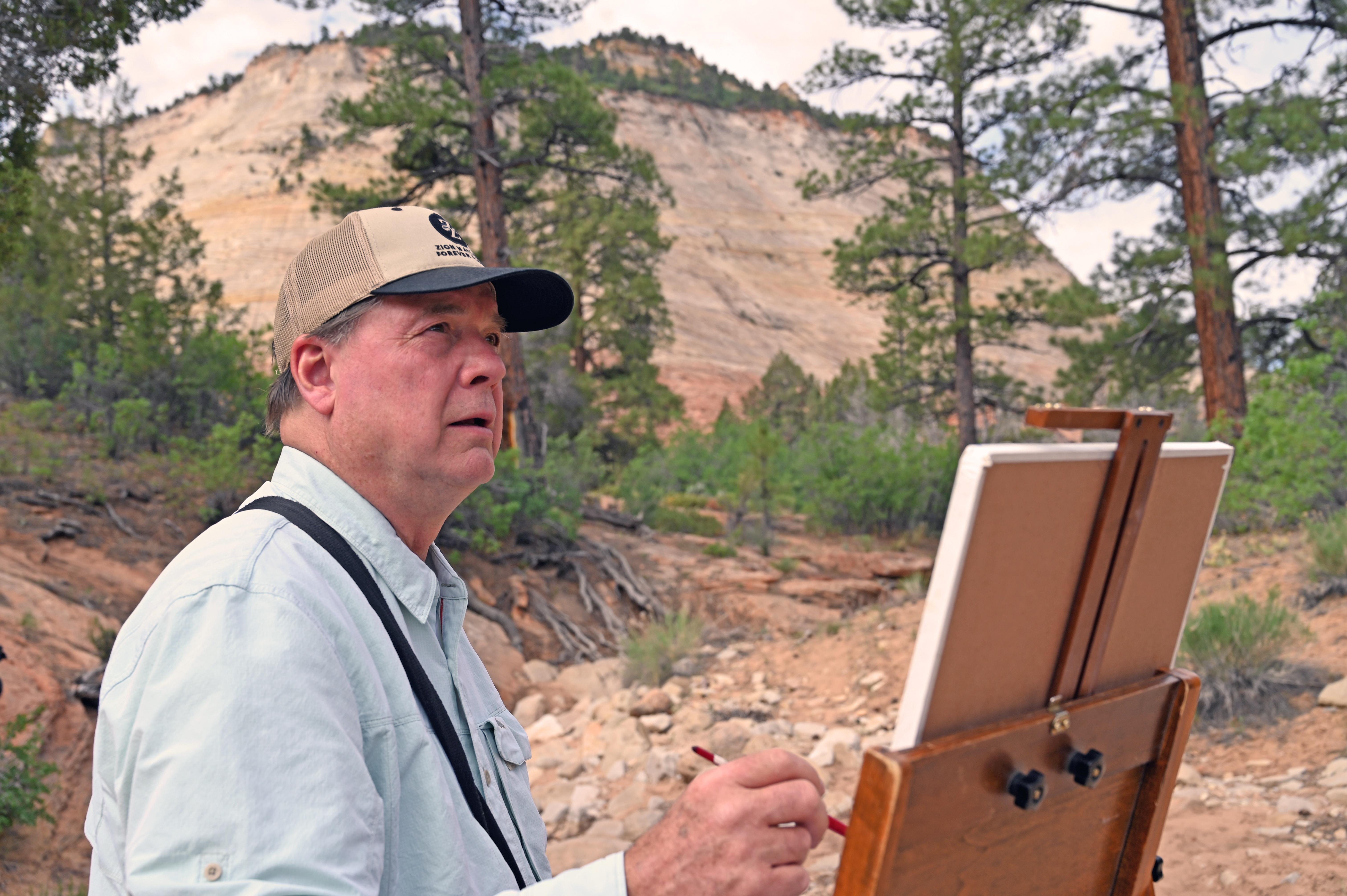 For the past 40 years, Zion National Park has not only been my playground but also my laboratory and my art studio. I came to Zion with brush and pencil to record my discoveries. Many artists before me have also attempted to share the vision of this geologic wonderland. Names like Thomas Moran, Gunnar Wildforss, Maynard Dixon, and Jimmie Jones. Along with a host of other artists and photographers, they helped shape our country's perception of the grandeur of the West.
Each landscape artist makes his or her own statement about the land based on their personal experiences and perceptions. It is more about feelings than images. And since those individual experiences are unique, we have to assume that their paintings will also be unique and different. They are like fingerprints – each different, but each as valid as the next.
My art is a personal reflection of my interaction with the land. The viewer may respond to my art because they are familiar with the place, or had an experience there, but a good painting should evoke a strong emotional response regardless of the viewer's familiarity with the subject matter.
Other Ways to Engage with this Exciting Project!
Coloring Page
Download your own coloring page inspired by the travel posters from the National Park Service.
This image is modified from an original illustration by David Meikle.
Traveling Exhibit
PBS Utah will be traveling an art exhibition called A Century of Views: Zion National Park. Click here to learn more about the exhibition and the locations it will travel to during the next two years.
---
Funding for Call of the Canyon: Zion National Park is made possible by: