Celebrate Asian American, Native Hawaiian & Pacific Islander Heritage Month
Every May we take extra time to celebrate Asian American, Pacific Islander, and Native Hawaiian (AAPINH) Heritage Month by shining a light on AAPINH experiences and filmmakers. Enjoy this collection of films, some premiering in May as well as some gems to revisit.
Why May? you ask.
In 1977 the U.S. Congress (spearheaded by Representative Frank Horton of New York and Senator Daniel Inouye of Hawai'i) chose the first ten days of May to commemorate the history and contributions of Asian American communities here in the U.S. The week's observance became a month, the very month in which the first Japanese immigrants came to the U.S. in 1843. We also commemorate the completion of the transcontinental railroad on May 10, 1869 as the majority of workers who laid those railroad tracks were Chinese immigrants. READ MORE >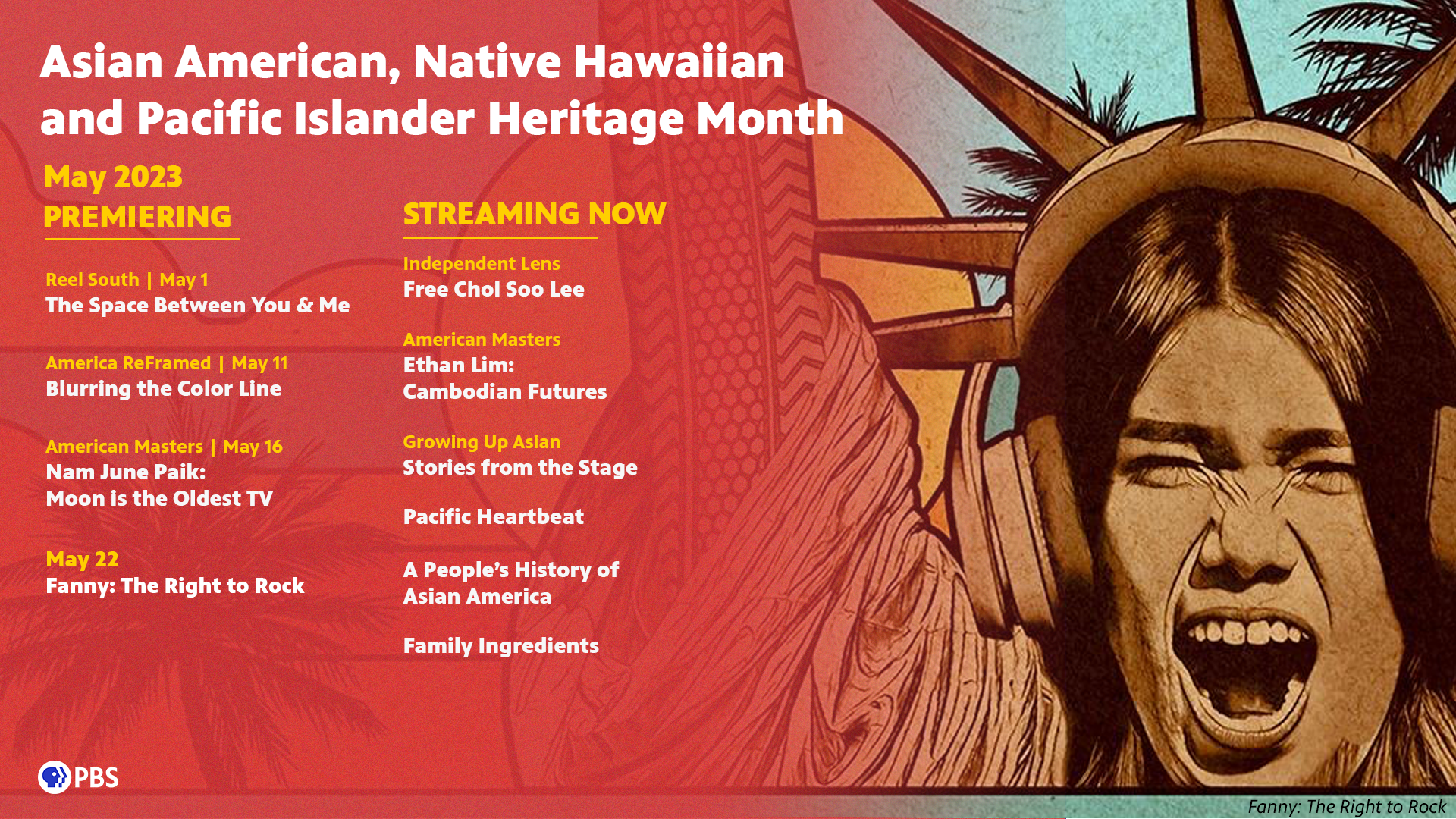 Independent Lens
Free Chol Soo Lee
Rollercoaster story of Chol Soo Lee, a Korean immigrant wrongfully convicted of murder.
American Masters
Ethan Lim: Cambodian Futures
Chef Ethan Lim creates vibrant dishes inspired by the rich, complex history of Cambodia.
Stories from the Stage
Growing Up Asian
Millions are creating their own definitions of what it means to be Asian American.
Family Ingredients
Japan – Miso Soup
In Japan, miso factories are like microbreweries in America.
Family Ingredients
California – Pipi Kaula
Trace the origins of Hawaiian cowboys who made tender beef jerky called pipi kaula.
Family Ingredients
Tahiti - Poisson Cru
Witness a family moment to remember and a dish never to forget.
Modern Gardener
A New Roots Community Gardener
Learn about New Roots and visit the deliciously unique garden of a New Roots gardener.
American Masters
Waterman – Duke: Ambassador of Aloha
Jason Momoa narrates the story of five-time Olympic medalist and surfer Duke Kahanamoku.
This Is Utah
Golden Spike and the History of Chinese Railroad Workers
Learn about the role of Chinese railroad workers on the transcontinental railroad.
WATCH now
Asian American Stories of Resilience and Beyond | On All Fronts
A biracial family navigates conversations about racial reckoning and its impact on them.
watch now
Betrayed: Surviving an American Concentration Camp
The story of the unjust incarceration of Japanese Americans and the loss of civil rights.
American Experience
Plague at the Golden Gate
Discover how bubonic plague in 1900 set off fear and anti-Asian sentiment in San Francisco
This Is Utah
Malialole
Merine "Vida" Tu'itama'alelagi Hafoka and her son Haviar "Havi" Tuitama Hafoka run Malialole, a Polynesian music and dance group that celebrates and preserves Pacific Islander art, culture, and history. Now three generations strong, Malialole is spreading Polynesian culture to today's youth, helping to foster a sense of identity and strengthen the community of Pacific Islanders in Utah.
This Is Utah
Women of the World
Since 2009, Women of the World has helped forcibly displaced women build a new community in Utah, helping them to secure jobs, learn the language, and build connections. The highlight of the year is the annual fashion show, which not only showcases beautiful ethnic fashions from around the world, but introduces Utahns to their newest neighbors in style.
Why Local Civics Matter
Student Reporting Lab Interview with Nyalok Akec
PBS NewsHour Student Reporter Nyalok Akec interviews Susi Feltch-Malohifo'ou about her involvement and impact in the community.
Let's Talk
Annie + Jahn
Let's talk about the importance of building empathy.
Modern Gardener
Gardening as Art
We met with home gardeners Analy and Dave to take a peek in their yard.
If you see an alarmingly high infant mortality rate in a group of people - how do you go about changing it? One program used cultural knowledge, intergenerational wisdom, and storytelling to create awareness about maternal and infant health in Utah's Native Hawaiian and Pacific Islander communities.
local food lab
Indian Street Food with Lavanya Mahate of Saffron Valley
In this video, we meet Lavanya Mahate, owner of the Saffron Group, for a demonstration of some amazing Indian street food recipes. We also see an interview with Lavanya conducted by a student from Judge Memorial High School working with PBS NewsHour Student Reporting Labs.
local food lab
Anny Sooksri of Fav Bistro Demos a Thai Dish
We meet Anny Sooksri, owner of Fav Bistro in Holladay, for an exclusive demo of a popular Thai dish: papaya salad. Students from Judge Memorial with the PBS NewsHour Student Reporting Labs worked with PBS Utah on our local Foodlab project, conducting interviews with the featured restaurant owners.
Watch now
America ReFramed | Curtain Up!
In New York City's Chinatown, the theater club of PS 124 is staging an adaptation of the film "Frozen." As the 5th graders gear up and rehearse for the musical production, nervous excitement and flubbed lines brush up against cultural stereotypes, family expectations, and post-graduation uncertainties. CURTAIN UP! shares a kid's-eye view of the wonders of discovering art, culture and identity.
watch now
Pacific Heartbeat | The Healer Stones of Kapaemahu
On Honolulu's famous Waikiki Beach stand four large stones that represent a Hawaiian tradition of healing and gender diversity that is all but unknown to the millions of locals and tourists passing by. According to legend, the stones are a tribute to four mahu, people of dual male and female spirit, who brought the healing arts from Tahiti to Hawaii and used their spiritual power to cure disease.
Nine Books to Celebrate Asian American and Pacific Islander Heritage Month
PBS KIDS put together a list of favorite books featuring Asian characters, written by Asian authors or illustrated by Asian artists—all chosen by kids and parents! Check out these heartwarming and fun tales with your family.