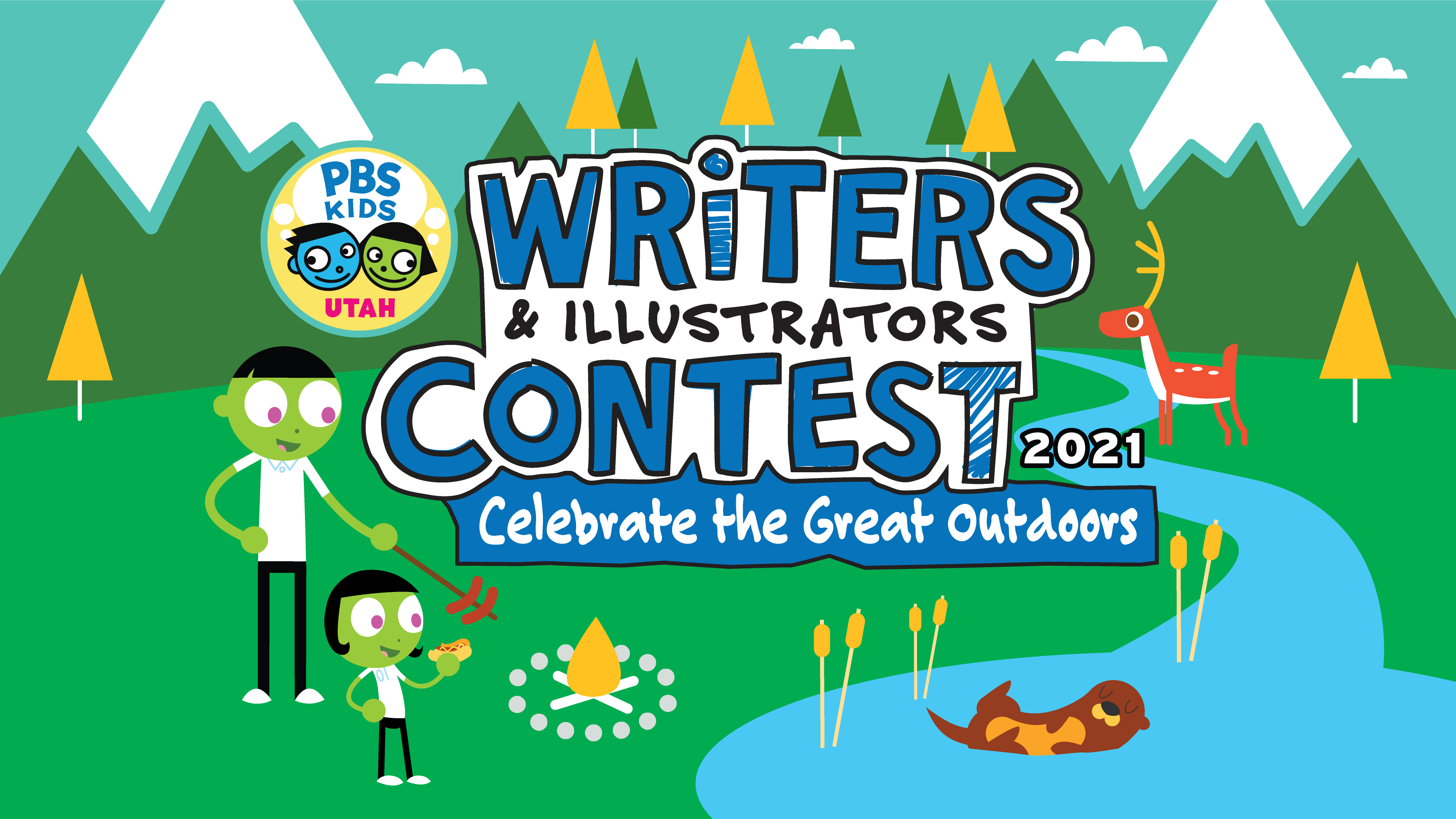 Judging is underway for the 2021 Writers and Illustrators Contest! Thank you to everyone who submitted a story. We received more stories than ever before – more than 400 entries!
Winners will be announced by May 31, and winning stories will be posted here for you to read in June.
Celebrate the Great Outdoors with PBS KIDS Utah.
It's the 20th Anniversary of the Writers & Illustrators Contest and we are celebrating the great outdoors!
Grab your notepad and pencil and get inspired for your story by getting out in nature. With Earth Day around the corner, this can include picking up trash at a local park, watching a sunset with your family, making your own backyard bird feeder, nature walks, camping, and more. Jot down story ideas and sketch drawings as you go.
Stories can be fact or fiction, as long as they Celebrate the Great Outdoors.
Winners, who are announced in May, will receive a PBS KIDS Utah prize pack and have their stories published online. The stories will be showcased in a traveling art exhibit hosted by the Utah Division of Arts and Museums.
Stories must be received by April 15, 2021
Mail story and completed entry form to:
PBS KIDS Utah
Attn: Elise Brimhall
101 Wasatch Dr., RM 215
Salt Lake City, UT. 84112
Here is everything you will need to help your young writer and artist submit their entry:
First, check out the Contest Entry Form and Rules (Print PDF Here). It has all the information you need to get your story ready to submit! Make sure you can enter the Contest.
Print off the Contest Entry Form and Rules (Print PDF Here). Have a parent or guardian fill out the form completely, sign it, and mail it with your story to be entered in the Contest.
What should your story include? 1) A beginning, middle, and end – remember to stay within the word count! 2) A central event, like a conflict or discovery. 3) A minimum of 5 illustrations that help tell the tale. For inspiration, check out the stories from last year.
Very Important!
Stories must be received by April 15, 2021!

Winners from Previous Years
Educators & Librarians
Contact education@pbsutah.org to receive materials to distribute to your students. Please include your name, where you teach or your library, the date of your event, and number of supplies needed for the students.

Printable Resources and Activity Sheets
(click on image to download PDF)
All stories start with an idea of the characters, places or events that will be in the story. Use these worksheets to help your child and students start to form ideas for potential stories. These activities provide a space to freely develop story ideas through text and illustration.